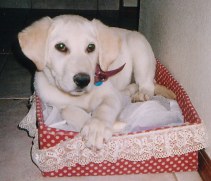 Puppy in a box, first day, May 15, 2004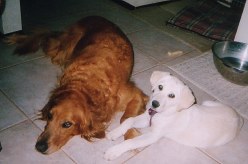 Loving big brother Luke......
Welcome Daisy Mae to the
Rockin D Arabian Horse Ranch!
When Mary went down to the Arizona Humane Society's mobile unit in Gilbert on May 15, 2004 she had no idea that the sweetest little girl in the world was waiting for her! They told her that you were a Lab mix about 3 months old and you weigh 21 pounds. We think we see a lot of Golden Retriever in your coat and face, so perhaps you will be a Golden instead of a Lab. But no matter, you have already won our hearts!
You had been picked up as a stray on
May 7, spayed on May 11 and adopted by Mary on May 15 --
Boy you had a very busy week!!!
Well Daisy, you are now in a "forever home", and you will be loved by all those who take care of you as well as all those who come to visit -- even Luke is beginning to love you!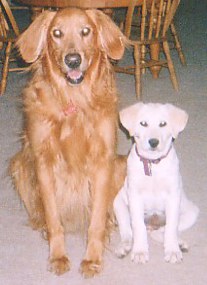 Copying my big brother Luke.....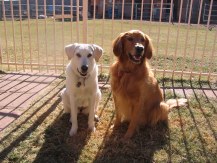 Look how I have grown -- Daisy 9 1/2 months