Horsin' Around with

King Kaladdinn
Off on his first TRAIL RIDE and SWIM at the Salt River Recreational area in Arizona after 3 weeks of performance training...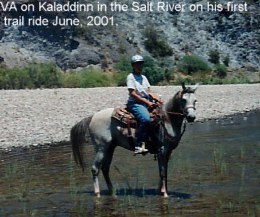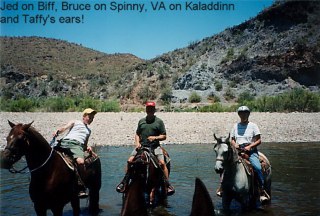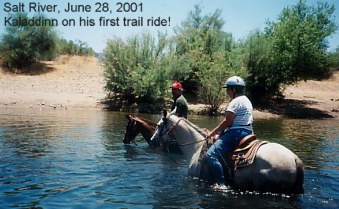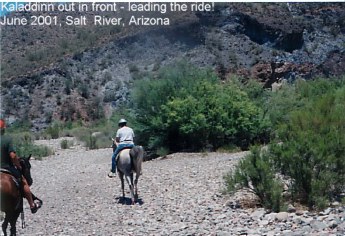 What are your hopes and dreams? Kaladdinn can help get

you there..........

Carriage Driving?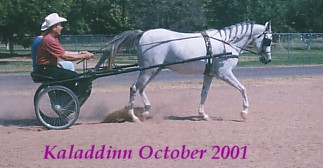 July 2001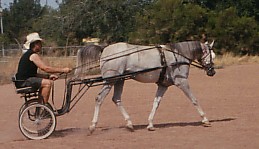 May 2001

Hunter Pleasure, Dressage?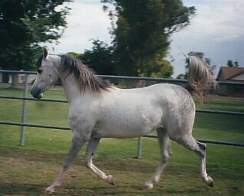 Western,, Endurance?
October 2000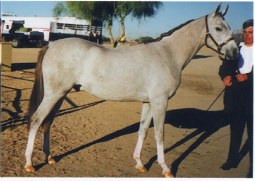 Arabian Sport Horse? December 1999
This outstanding young 1998 purebred gelding is available for purchase to a home where his athletic abilities will be appreciated. He is currently in performance training focusing on the hunter and western disciplines.
Kaladdinn's Sire
AladdinnsBlessing (Lion of Judah x Alanndra)
Email: Rfuller505@aol.com
Kaladdinn's Dam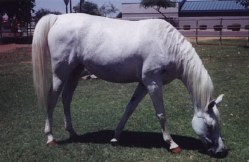 Hy Komotion (Estedamshyvoltage x Empires Kohlazart)

Horsin' Around with Kalamity (Hy Komotion)......

Equine Massage by "Equine Visions", Diane "DJ" Jarman CEMT (623-434-3513 home)