Updated: August 2007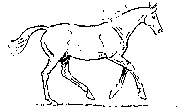 We offer TLC with lots of carrots, automatic waterers, misters, barn fans, round pen and canal riding. We also have a grassed area where "arena" work can be done.

Horses are fed twice a day - we offer individualized feed programs - stalls are cleaned twice a day and every horse has time on pasture each day, except during irrigation when they have time in the roundpen to stretch their legs.

For boarding information please contact Mary: medeason@aol.com

or call:

Mary 480-892-1260 or